What's on at the BICC
The Blackwater International Coal Centre hosts many exciting events throughout the year. Keep up to date with all the local Blackwater Events by bookmarking this page or following our Facebook page.
---
Eliza's Cottage Annual Craft Fair
Saturday 19th August 2017
9am – 3pm
@ the BICC
****Home made crafts made with love  just for you ****
---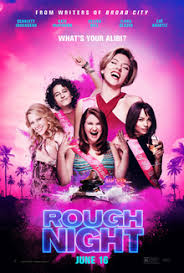 ROUGH NIGHT MOVIE NIGHT 28th July 2017  @ 7.00pm
$20 per head – Bookings Essential
Hot & Cold Platters Available – $30/Platter
Phone: (07) 49827755 to book
 Jess is an engaged politician who reunites with three of her college friends for a wild bachelorette weekend in Miami.
The night of hard partying soon takes a hilariously dark turn when a male stripper accidentally dies at their beach house.
Amid  the craziness of trying to cover it up, the women ultimately find themselves becoming closer when it matters most.
            Day Showings available Friday 28th July @ 10am  Monday 31st July @ 10am  Adults $15.00
---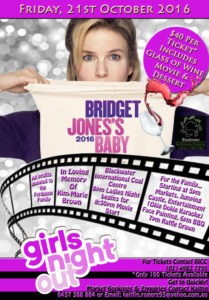 Ferguson Family Fundraiser   |   Friday 21st October 2016
Friends of the Ferguson Family are hosting a fun-filled family evening and movie night to raise money for a local Dingo Family. Sadly Kim-Marie Brown lost her battle with Leukemia this year, leaving behind her 2 young children and husband.  The evening will start with some family entertainment including market stalls, jumping castle, Okie Dokie Karaoke, face painting, raffles and BBQ – from 5pm till 7:45pm.
Cost: FREE Entry
Ladies stay a little longer and enjoy the feature movie Bridget Jones's Baby, Dessert Bar, and a Glass of Wine. Be quick only 100 tickets available
Cost: $40 per ticket
Tickets available for purchase at the BICC
Market Stalls and event enquiries please contact Kaitlin on 0437 388 864 or email kaitlin.rogers93@yahoo.com.au
---
Blackwater Art Society Art Exhibition | Friday 28th October
Join us for an evening showcase of local artwork by the Blackwater Art Society.  Doors open at 6:30pm, free admission but please show your support through the door raffle.  Alcohol Bar and Food Platters available for purchase.
Cost: Free Admission
The Gallery exhibition will be on display at the centre for 2 weeks following the opening night.