Blackwater Events
The Blackwater International Coal Centre hosts many exciting events throughout the year. Keep up to date with all the local Blackwater Events by bookmarking this page or following our Facebook page.
---
2019 Blackwater Community Markets @ the BICC Dates:
24th February, 28th April, 23rd June, 17th August, 20th October, 23rd November. Markets will run from 9am – 1pm
BICC 10yr History & Heritage Celebration – 25th August 2018
Community Free Event – Stay tuned, more info coming!!!!!
BICC Market Day 19th May 9am – 3pm
OCTOBER EVENTS
---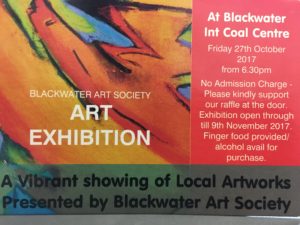 Blackwater Art Society – Art Exhibition
Friday 27th October 2017
From 6:30pm
FREE Admission
A vibrant showcase of talented local artists. Enjoy and evening of art, finger food, and alcohol available for purchase at the bar.
---
BMA Celebrating 50 years – Blackwater Mine
Saturday October 7th 2017
2:00pm
Blackwater Crusher Rugby League Fields
This year, Blackwater Mine will mark 50 years of operations — and to celebrate, we're calling on all employees, past and present, families and friends of Blackwater Mine, our partners, and the community, to join us for a free community event on Saturday 7 October at Blackwater Crushers Rugby League Fields from 2pm.
Blackwater Mine has a long and proud history in the Central Highlands Region and to celebrate, we would like to invite everyone that has been part of our 50 year history, to come along and celebrate this milestone by registering at https://bwm50yrs.eventbrite.com.au.
Live music — including feature act Busby Marou
Historical displays, attractions and activities
Entertainment for children
Stalls operated by local community groups for patrons to purchase food and beverages
Please come along to share your stories, learn more about our history, and celebrate 50 years of mining in Blackwater — The Coal Capital.
---